Health Protection - Beauty Facilities, Skin Piercing and Tattooing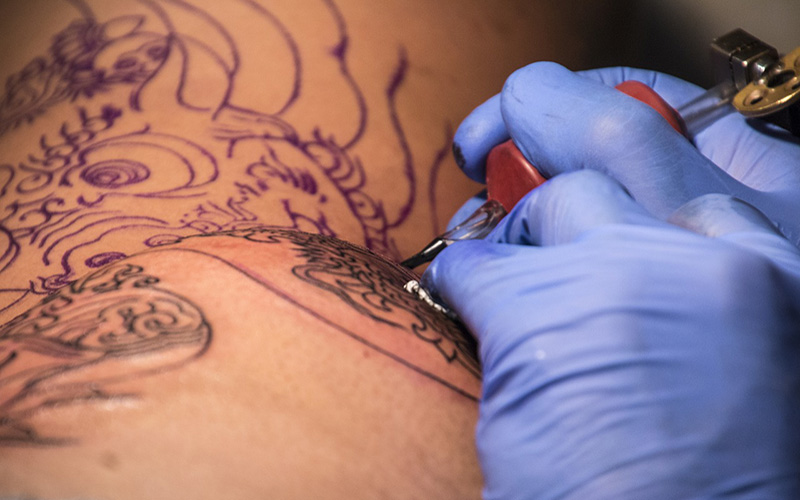 Scope
The purpose of this chapter of the Bylaw is to apply rules to prevent the transfer of communicable diseases and infections in Beauty Facilities, Skin Piercing or Tattooing premises. Where relevant this includes Jewellers, Beauty Therapists, Hairdressers and other businesses that offer Skin Piercing Services.
Beauticians, skin piercers and tattooists must be fully aware of the potential hazards and wider effects of their procedures on public health. It is essential that all categories of operation understand the precautions that must be taken to minimise the likelihood of infection or spread of disease.
This chapter of the Bylaw requires that premises which provide beauty facilities, skin piercing and tattooing procedures are registered and that certain standards of construction and operation are achieved and maintained.
2001 Registration of premises
2001.1 No Person shall permit or allow to be used any
beauty facility; or skin piercing facility; or
(c) tattooing facility
unless the premises on which that y facility is located is registered with council and a current certificate of registration is issued.
2001.2 An application for a certificate of registration shall be submitted by the owner or operator of the premises on an approved form.
2001.3 For every certificate of registration there shall be paid to council a fee as will be decided from time to time by way of the appropriate council fee setting process.
2001.4 On receipt of any application and payment of the required fee a certificate of registration may be issued provided the authorised officer is satisfied in respect of the following matters:
(a) The premises on or in which the beauty facility, skin piercing or tattooing facility is located shall comply with the provisions of all Acts and Regulations that govern its occupancy; and
(b) The provisions of this chapter of the Bylaw; and
(c) Such parts of Council Codes of Practice for the management and operation of beauty facilities, skin piercing and tattooing facilities that are relevant to the facility.
(d) Such other matters, as council or the authorised officer considers relevant to the safe operation and maintenance of the facility.
2001.5 Every certificate of registration shall be prominently displayed in a public part of the premises to which it relates.
2001.6 Every certificate of registration shall expire at the 30 June in every year and may be renewed upon application. No certificate of registration shall be for a term of more than one year.
2001.7 No certificate of registration is transferable to any other premises.
2001.8 Every certificate of registration shall be personal to the licensee. The licensee shall be responsible for ensuring that the provisions of this chapter of the Bylaw are complied with and that all persons working on the premises are adequately trained and supervised to prevent as far as is practicable any breach of the requirements of this chapter of the Bylaw.
2001.9 Council may suspend or cancel the certificate of registration either wholly or for such period as it thinks fit if satisfied that all or any of the provisions of this chapter of the Bylaw have not been complied with.
2001.10 The above provisions also apply to every application for the renewal of a certificate of registration.
2002 Exemptions
2002.1 The provisions of clause 2001.1 of this chapter of the Bylaw shall not apply to:
(a) A Health Practitioner registered pursuant to the Health Practitioners Competence Assurance Act 2003.
(b) A person acting under the direction or supervision of any such Medical Practitioner, Nurse, Physiotherapist, Podiatrist or Dentist, where the purpose is the practice of medicine, physiotherapy, podiatry, nursing or dentistry, respectively; or
(c) Any premises occupied by a registered pharmacist in which only the skin piercing process of ear piercing is carried out however the provisions of this chapter of the Bylaw shall otherwise apply to such premises and ear piercing operations carried out in those premises; or
(d) The carrying out of acupuncture, where any person wishing to undergo acupuncture is unable to attend the licensed premises because of injury, infirmity or medical emergency, provided that the acupuncture is carried out in compliance with the procedures specified in Council's Code of Practice for the Management and Operation of Beauty Facilities, Tattooing and Skin Piercing Facilities as they relate to acupuncture; or
(e) Practitioners of traditional Maori or Pacific Island tattoo art, provided that they comply with the codes of practice as set out from time to time by council, in consultation with the local Iwi authorities, or Pacific Island community.
2002.2 Where an Authorised Officer is satisfied that compliance with all or any of the requirements of this chapter of the Bylaw would be impracticable or unreasonable, having regard to the premises in question or the process being undertaken, an exemption may be granted with such modifications, and subject to such conditions as are in the interests of public health and as the authorised officer may deem desirable in the circumstances.
2002.3 Any person wishing to take advantage of the provisions of clause 2002.2 hereof shall require the consent of an authorised officer and shall pay such fee for any inspection required and for the authorised officer's time to consider the matter.
2002.4 A record of all exemptions granted shall be kept by Council.
2003 Code of practice
2003.1 All Beauty Facilities shall comply with the requirements specified in Council's Code of Practice for the Management and Operation of Beauty Facilities, Skin Piercing and Tattooing Facilities as the case may be.
2004 Cleansing and repair
2004.1 In any case where any premises, equipment or procedure used is of a standard or condition whereby users or staff may be exposed to contamination or communicable disease, the licensee shall, on receipt of a notice signed by an authorised officer, alter, cleanse, reconstruct or repair the premises, equipment or procedures as directed within the time specified in the notice, or cease using the premises until any such time as agreed by the authorised officer.
2004.2 2004.3 A re-inspection fee will be imposed in any situation where an authorised officer is required to re-inspect a Facility after a notice referred to in clause 2004.1 hereof has been issued.
2005 Appeals
2005.1 The licensee of any premises having received notification of a requirement issued under the provisions of clause 2004.1 hereof may appeal against the notification of requirement to the Medical Officer of Health within 14 working days of the date of notification of the decision or requirement. The appeal shall be in writing.
2005.2 This right of appeal is in addition to any other statutory right available to the licensee.
2006 Offences
2006.1 Failure to comply with the provisions of this chapter of the Bylaw is an offence and the offender is liable under section 229 of the Local Government Act 2002.