Fusion of wonder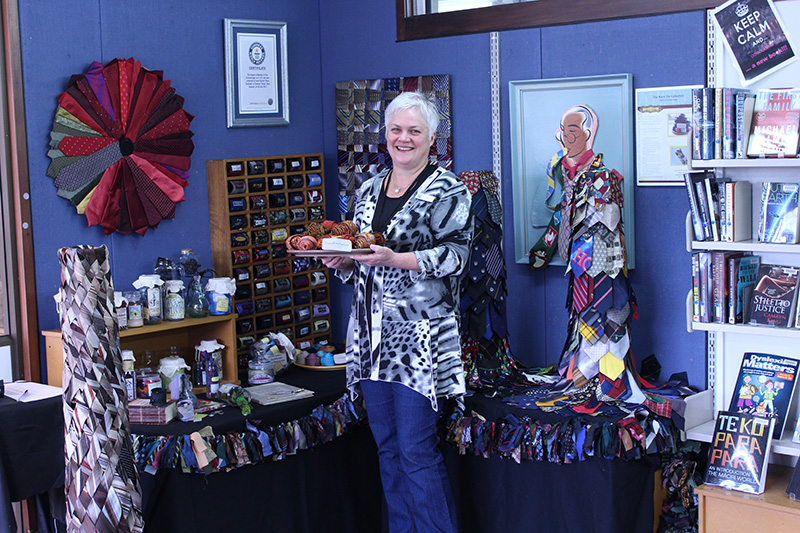 Take two classics, one recent and one a little older, throw in some neck ties and you've got a fusion of unique creativity that will spark the imagination and tempt young and old minds alike to explore all that is on offer at the Waimate District Library.
The two classics – Harry Potter and Alice in Wonderland – are themes infused in the current display of the Library and are the inspiration of Irene Sparks who has the Guinness World Record for Grabatology (necktie collection) with 21,321 different ties.
Mayor Craig Rowley says there's a strong focus on encouraging people to visit the Library and the display is a fine example of blending artistry and literacy.
"Just last week we announced the removal of fines on overdue children's books – this is one way to encourage literacy," says Mayor Rowley.
"The new display will spark even greater interest. One has to wonder – what do ties have to do with literacy? The answer lies within the display itself and as Irene Sparks has herself said – there are hidden clues including what Harry Potter may have seen on his first day at Hogwarts – pumpkin pasties and jars full of humorous potions."
"Entering the library is like falling down the rabbit hole – there are many surprises indeed!"
The colourful exhibit will be on display for approximately one month.
"With the school holidays now here, now's the time to check out this wonderful display."